Register for Our Upcoming Boost Your Marketing Webinar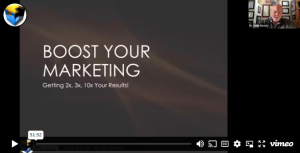 Date: June 21st
Time: 3 PM ET
Are you looking to take your small business's marketing game to the next level? Do you want to attract more customers and make a bigger impact in your community? If so, then our upcoming Boost Your Marketing webinar is an event that's not to be missed! Our team has developed an insightful program with actionable tips and strategies focused on equipping small businesses owners with the skills necessary for success. Through this interactive session, we'll explore key elements like using data-driven insights, developing targeted campaigns, and understanding analytics. Sign up now and get ready for a deep dive into mastering modern marketing – all from the comfort of your own home!
Boost Your Marketing: Your Google Business Profile is Broken!
Are you looking to give your marketing strategy a much-needed boost? Look no further than utilizing your Google Business Profile. In today's digital age, a strong online presence is key, and your Google Business Profile is often the first thing potential customers see when searching for your business. But with the ever-changing landscape of online marketing, it can be difficult to keep up with the latest tactics and techniques. In this webinar, we'll dive into the ins and outs of maximizing your Google Business Profile, from optimizing your listing to leveraging customer reviews. You won't want to miss out on this valuable opportunity to take your marketing efforts to the next level.
Benefits of Registering
Registering for the upcoming webinar on how to use Google Business Profile can be highly beneficial for anyone looking to improve their online presence. The session promises to equip attendees with practical tips and tricks to make the most of Google My Business. This can be a powerful tool for driving traffic and boosting sales. Whether you're a small business owner or a digital marketing professional, this marketing webinar is an opportunity to learn from experts who have harnessed the power of Google My Business to their advantage. By registering for this webinar, you'll gain access to exclusive insights and information that can help you stand out in a crowded online marketplace. Don't miss out on this chance to upgrade your skills and take your online presence to the next level!
Who Should Attend
Small business owners who are looking to take their business to the next level should definitely attend this marketing webinar. Whether you've just started your business or have been running it for a few years, attending this event will provide you with invaluable resources and knowledge that you need to grow your business. You'll have the opportunity to network with other like-minded small business owners and gain insights from expert speakers on topics such as marketing, financing, and customer service. Don't miss out on this opportunity to expand your business and take it to new heights. Join us at this event and get ready to elevate your business to its fullest potential.
What You Will Learn
Looking to maximize the visibility of your business on Google? We've got you covered with these Google Business Profile tips that will give you the competitive edge you need to stand out. You'll learn how to optimize your profile with compelling descriptions, eye-catching photos, and interactive features that will set your business apart from the rest. With our guidance, you'll discover how to take advantage of Google's powerful algorithms to boost your search engine rankings, capturing the attention of potential customers in your area and beyond. Let's dive in and start elevating your online presence today!
How to Register for Our Marketing Webinar
If you're eager to attend a webinar but don't know how to register, don't fret! The registration process is quick and easy, and will have you signed up for the virtual event in no time. Click here to register now and get ready to learn something new!